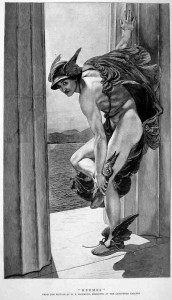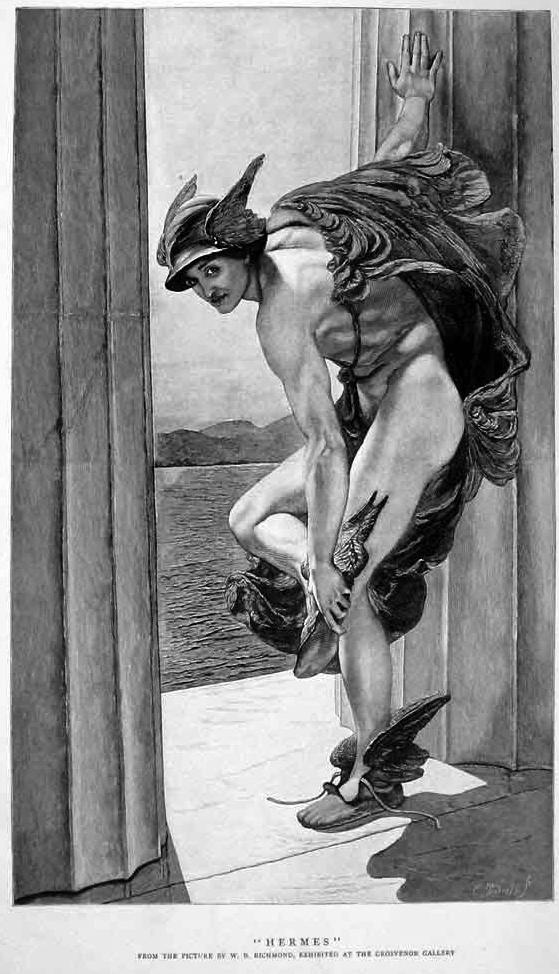 Gods arise in response to need, being the embodiments of Divine Providence. Otherwise, we would never know of Them. Their appearance is a reflection of us, our understandings and predilections. Ancient Greeks acknowledged that if a dog or a cow were to see a God, the God would appear dog-like or cow-like. They are, and are far beyond any human conception of them, beyond distinctions of personhood or impersonal power. But in Their tender Providence, what we might call Compassion today, They come in forms we can grasp and with powers we need in our lives.
Thus it seemed to me, when a God I have long served, and priest for to my Pagan Community, arose and revealed a form of His: Hermes Pantos Apolytos, Hermes All-Liberating.
From His rite of Invocation:
A bearded Man in his prime
Wearing the winged Hat of Hades,
A white Tunic woven by Athena,
Over that a yellow leather Tabard from Hephaestus,
Bound by Aphrodite's zodiacal Girdle,
About His shoulders Oranos' Chalmys Cloak,
On His feet, His winged Boots.

His four arms tell His might:
In His upper left hand is Zeus' Golden Rod
In His upper right, Gaia's Gray Flint Sickle
His lower right is Hera's Giving Hand and
In His lower left Hekate's Torch,

Lit from Hestia's Lamp which rests before Him,
Along with Artemis' Arrow, Demeter's Barley,
Dionysus' Cup, and Apollo's Dice.
A four-armed Greek God? Some will point to a form of Hekate (debated), but certainly it is not common to see.
Yet, this is the form of Hermes All-Liberating, Destroyer of Obstacles, Liberator of Bonds, Purifier of Poisons, so far as we have learned it.
As the year draws to a close it is a good time to clear obstructions from our lives. Our world is full of impediments internal and external, material and spiritual, that keep us from the happiness and satisfaction that is our natural state. Here is a God who has heard our need, a friendly God who comes with True Divine Wrath, who liberates all forms and forces that oppose our right actions, our rightly lived lives.
It is also clear that if we are in the wrong, or that we are the obstructions, He will Liberate us as well. And this is of All Compassion.
On Saturday December 14 from Noon to ~4pm at Arkadia, I will host an extended ritual to invoke Hermes Pantos Apolytos and activate His wrathful power to remove material and spiritual obstructions from our lives, based on the Tantric invocation I have previously taught.
You are invited to attend. Although this is not a teaching on the practice, those unfamiliar with it are welcome to attend and partake. Those familiar should practice in preparation.
Space is limited, so please let me know if you plan to attend and if you need directions.
There is no cost for this work, but donations are gratefully accepted.
Blessings of the Herm,
)O+
sam